Daddy Loves My Rosebud Too Full HD 1080p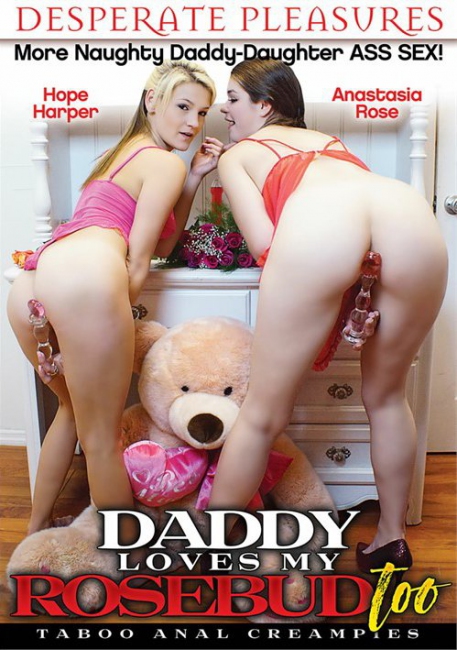 Release Year:
2017
Genres:
Includes oral, hardcore sex in various positions, anal, anal creampies.
Video language:
English
Description:
Pure Play Media and Desperate Pleasures release Daddy Loves My Rosebud Too. Hope Harper and Anastasia Rose team up in a series of scenarios with only one goal in mind: for the two sisters to get their hands on Daddy, and to have his cock as deep inside their asses as possible.
"After the intensity of Daddy Loves My Rosebud with Kate England and Camille Black, we had to take it even further," says director and resident 'Daddy,' JW Ties. "Having two daughters competing for Daddy's affections by offering up their rosebuds made for an even hotter Valentine's day this year!"
Daddy Loves My Rosebud Too features the tale from two perspectives; those of Hope and Anastasia. Hope tells her diary, "Daddy decided to adopt Anastasia, and we started getting the house ready a few days before her arrival. When Daddy came in to help with the room, I decided to stake my claim as Daddy's number number one princess! I pulled down his shorts and started sucking his cock. Once he was hard, I spun around and begged him to fuck me doggy style. Next thing I knew, I was on my back and Daddy was cumming inside me and all over my ass, too. I think seeing me jealous really turned him on, and he definitely knows who his princess is! But just to be safe, I'll let him fuck my ass later! Having a new sister in the house really brought out my competitive streak. Luckily I know just how to get daddy's attention, cause he really loves my rosebud!!"
Anastasia shares what happened after she was adopted, diarying, "I was so excited to become part of the family, I moved in before everything was final. A few weeks later, we finally got the news, so my new Daddy came to tell me. He came in my room and gave me the news, then suggested we celebrate. I knew just what Daddy meant, so I started sucking his cock. He played with my pussy a bit, then started fucking me. My new Daddy was so excited, it wasn't long before he came all over me. I'll bet he's going to enjoy fucking my ass, too. Now, if I can just keep Hope smiling, we'll be one big happy family!"
Anastasia says, "I was so happy to be able to be a part of this family adventure with Hope and Daddy JW. I absolutely love anal and shooting with the 'family.' If you haven't seen this anal adventure, it's a must-see. I'll show you exactly why Daddy loves my rosebud, too!"
********************************************
Filesize:
2.06 GB
Format\Resolution:
MPEG-4,FullHD
Duration:
01:21:43
Video:
AVC, 1920x1080, 30.000 FPS, 3425 kb/s
Audio:
AAC LC, 48.0 kHz, 2 channels, 44.3 kb/s
************************************************
[url=http://adultbliss.net/engine/go.php?url=aHR0cHM6Ly9ob3RsaW5rLmNjL3NjZ3lqbzdqMXdudy9EYWRkeV9Mb3Zlc19NeV9Sb3NlYnVkX1Rvby5tcDQuaHRtbA%3D%3D]https://hotlink.cc/scgyjo7j1wnw/Daddy_Loves_My_Rosebud_Too.mp4.html
[/url]